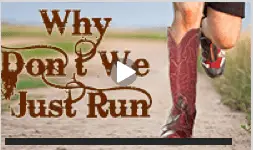 Gratis hardloopmuziek gezocht? Rock my run heeft weer diverse nieuwe playlists die je gratis kunt downloaden.
Door simpelweg lid te zijn, verdien je elke maand al 1 credit. Omdat ik niet zo heel vaak muziek download heb ik inmiddels maar liefst 9 credits opgebouwd. Ik kan dus gratis hardloopmuziek in de vorm van een heleboel playlists met muziek om op te hardlopen downloaden.
Maar de 'duurste' mix die ik tot nu gedownload heb kostte 2 credits, en dat was de playlist waarvan je hier boven het plaatje ziet. Is het niet prachtig! Twee van mijn grote liefdes verenigd: cowboylaarzen en hardlopen! Beter wordt het niet!
Gratis hardloopmuziek downloaden op Rock my run: de genres
Rock my run heeft echt voor ieder wat wils op het gebied van gratis hardloopmuziek.
House
Rock
Pop
Hip-Hop
Country and Western (mijn favoriet!)
80s
Latin House
Oldies
Classical
Dubstep
Drum and Bass
90s
Christian Rock
Bmore
Reggae
R&B
Seasonal
Gratis hardloopmuziek downloaden was nog nooit zo makkelijk.
Hardloopmuziek BPM: Beat per minute
Bij elke playlist wordt de BPM aangegeven. Als je met een flink tempo wilt lopen, kies je een playlist met een hoge BPM. Je kunt dan het ritme van de muziek volgen, en je tempo zal vanzelf hoog zijn.
Heb jij een favoriet loopnummer?
Het mijne is 'Is the way to Amarillo?!'
Ik ga er spontaan sneller van. Luister maar: